Geneverse portable power stations and solar generators were designed to offer long-lasting power on a single charge. The amount of power available depends on the number of devices you choose to operate.
We've created the following chart to help our customers visualize how they can best use their Geneverse units when facing a power outage. Each line explains the average wattage of a supported home device, and how long the 1002Wh HomePower ONE would be able to power that one device on a single charge, abiding by our assumed average usage times.
Note: If you choose to power more than one device on a single charge of your HomePower ONE, your battery supply will drain faster based on each devices usage estimate.
HomePower ONE (1002Wh Lithium-Ion Power Station) Usage Estimate Chart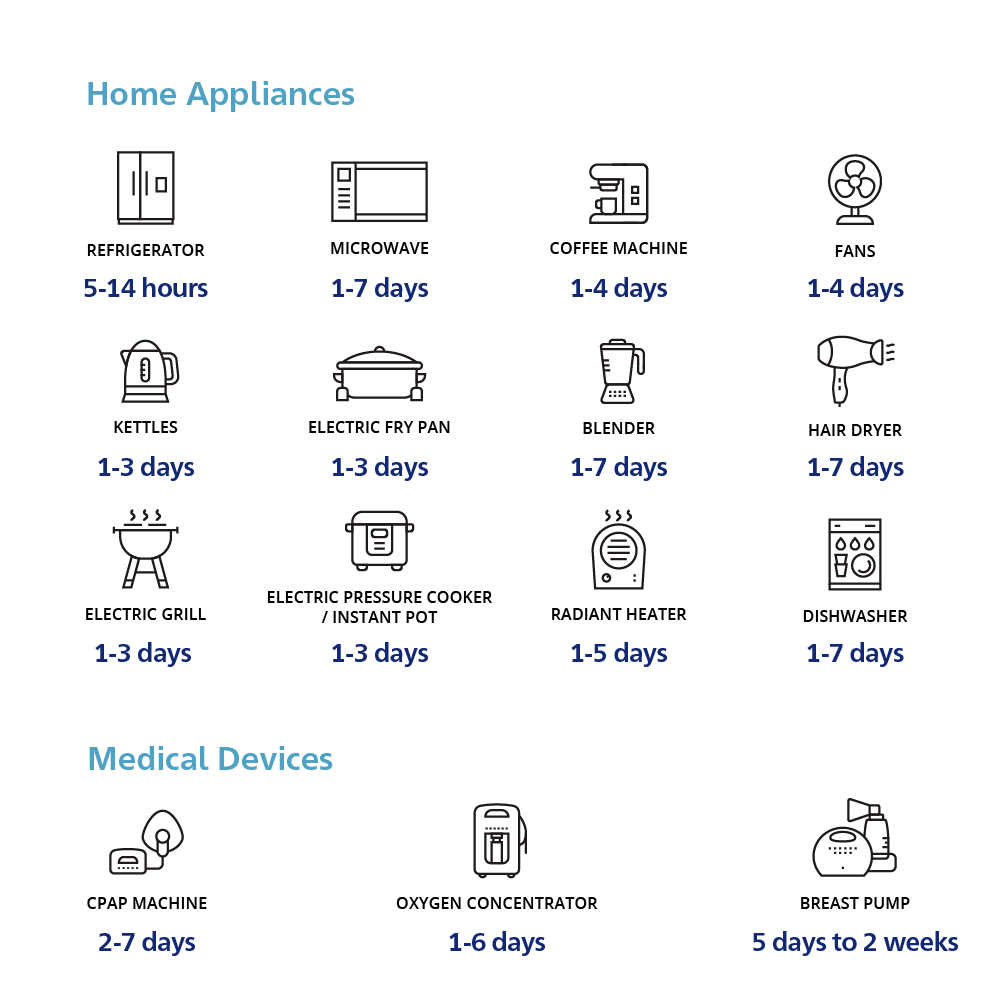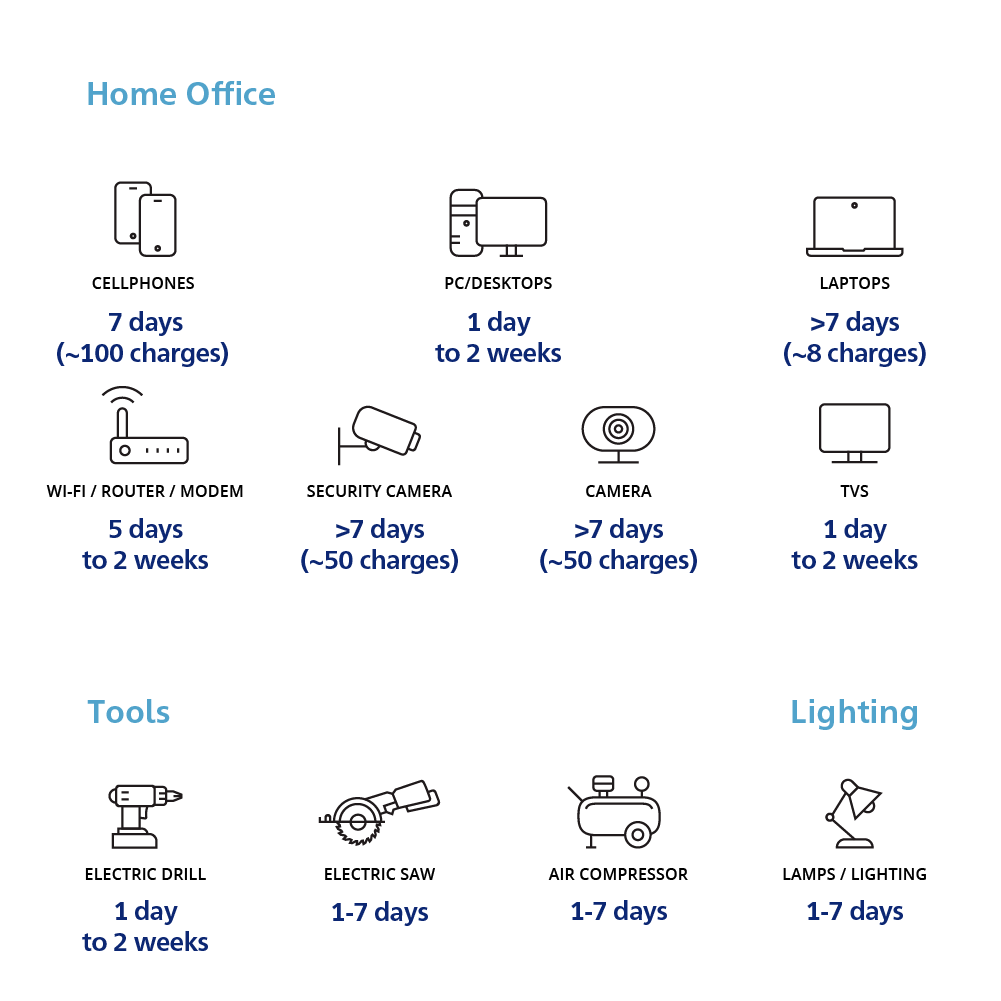 | | | | | | |
| --- | --- | --- | --- | --- | --- |
| Category | Device | Normal Running Wattage Range (Watts) | Supported by the HomePower ONE? | Total Usage | Assumption |
| Home Office | Cellphones | 2-10 | Yes | >7 days (~100 charges) | |
| Home Office | PC/Desktops | 30-100 | Yes | 1 day to 2 weeks | |
| Home Office | Laptops | 30-100 | Yes | >7 days (~8 charges) | |
| Home Office | TVs | 60-250 | Yes | 1 day to 2 weeks | |
| Home Office | Wi-fi / Router / Modem | 5-20 | Yes | 5 days to 2 weeks | |
| Home Office | Camera | 10 | Yes | >7 days (~50 charges) | |
| Lighting | Lamps / Lighting | 5-100 | Yes | 1-7 days | |
| Home Appliances | Refrigerator | 60-200 | Yes | 5-14 hours | |
| Home Appliances | Microwave | 500-1200 | Yes for 1000W & below | 1-7 days | Use 3-10 times per day, each time 5-15 minutes |
| Home Appliances | Coffee Machine | 500-800 | Yes | 1-4 days | Use 3-10 times per day, each time 10 minutes |
| Home Appliances | Kettles | 800-1800 | Yes for 1000W & below | 1-3 days | Use 3-10 times per day, each time 10 minutes |
| Home Appliances | Electric fry pan | 800-1800 | Yes for 1000W & below | 1-3 days | Use 3-6 times per day, each time 10-15 minutes |
| Home Appliances | Blender | 300-850 | Yes | 1-7 days | Use 3-6 times per day, each time 5-10 minutes |
| Home Appliances | Electric grill | 800-1800 | Yes for 1000W & below | 1-3 days | Use 3-6 times per day, each time 10-30 minutes |
| Home Appliances | Electric Pressure Cooker / Instant Pot | 800-1200 | Yes for 1000W & below | 1-3 days | Use 1-3 times per day, each time 30-60 minutes |
| Home Appliances | Radiant Heater | 800-1800 | Yes for 1000W & below | 1-5 days | Use 1-5 times per day, each time 15-60 minutes |
| Home Appliances | Fans | 50-100 | Yes | 1-4 days | Use 5-10 times per day, each time 1-4 hours |
| Home Appliances | Hair Dryer | 800-1800 | Yes for 1000W & below | 1-7 days | Use 1-3 times per day, each time 5-15 minutes |
| Home Appliances | Dishwasher | 200-600 | Yes | 1-7 days | Use 1-3 times per day, each time 30-60 minutes |
| Medicial Devices | CPAP Machine | 30-60 | Yes | 2-7 days | |
| Medicial Devices | Oxygen Concentrator | 150-500 | Yes | 1-6 days | Use 1-5 times per day, each time 1-4 hours |
| Medicial Devices | Breast Pump | 20-50 | Yes | 5 days to 2 weeks | Use 1-8 times per day, each time 15-30 minutes |
| Tools | Electric Drill | 500-900 | Yes | 1 day to 2 weeks | Use 10-60 minutes per day |
| Tools | Electric Saw | 800-1200 | Yes for 1000W & below | 1-7 days | Use 10-60 minutes per day |
| Tools | Air Compressor | 800-4500 | Yes for 1000W & below | 1-7 days | Use 10-60 minutes per day |